We're not for everyone
We are the home of Jonesboro's Famous Thin Crust Pizza. If you are looking for that thick (loaded up with grease) crust, we are not for you. If you like to eat at a buffet, hey there is nothing wrong with that, but we don't have one, so we are not for you. If low price is more important than great taste, then Upper Crust Pizza Co. is not for you. Enough of those (not for yous).
At Upper Crust Pizza Co., we are for those people who like knowing we use a high-protein flour & pure olive oil to make our crust. We only make it thin, so you get full on actual meat & veggies, not bread & grease. We use Grilled Chicken Breast, Hormel's Pepperoni, Ham & Turkey and 100% Mozzarella Cheese. We arrive early every morning to chop fresh green peppers & onions, make fresh sauce and of course our one of a kind-House dressing. And don't forget, we do not have a 6 minute conveyer oven like most franchise places, Upper Crust Pizza Co. uses the "old school" stone-hearth brick oven's, so our pizza's take about 15 to 20 minutes to cook. It also takes an experienced adult to run our ovens, no kids allowed.
But enough about our pizza's, our salads are made on a fresh bed of lettuce, with your choice of ham, turkey or chicken topped with green peppers, onions, mushrooms, black olives, 100% mozzarella cheese & bacon bits and that's just the way most people want it. But, some people like to change their salad up, so we let them.
The great thing about us is parents can feel good about serving their family Upper Crust Pizza. Order a specialty pizza for the adults and a traditional favorite for the kids. We normally have a special on that combo; just ask about our nightly specials or check our website for coupons.
Kids will love the taste, you'll love the quality and everyone's happy.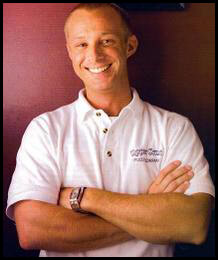 Chad Holifield - Owner
---
My Guarantee and Promise to You
If you should ever be disappointed, if we should fail you in any way or let you down for any reason - please let me know right away. If I can't straighten things out for you - to your complete satisfaction, I will refund the entire amount- to the penny -- in cash, and without any hassles!